Dove ou DO-17, (pomba em inglês, referência a pomba da paz)  foi o primeiro satélite amador brasileiro, colocado em órbita em 1990, sua recepção era fácil e interessante pois além da telemetria em Packet também enviava uma mensagem de voz digitalizada. DOVE foi patrocinado pela AMSAT-Brasil e  pelo Dr. Júnior Torres De Castro, PY2BJO. A principal missão do DOVE era de fornecer um sinal fácil para recepção, que poderia ser escutado de um simples HT VHF para fins didáticos. A telemetria em AFSK, formato de transmissão de pacotes AX.25 exigia um simples TNC comum para decodificar, facilitando assim a qualquer pessoa receber a sua telemetria.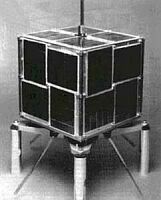 O BRAMSAT-OSCAR-17 ou Dove foi enviado para o espaço em 20/01/1990 por um foguete Ariane 4 lançado da base de Kourou na Guiana Francesa. Ele circulava  ao redor da Terra em uma órbita síncrona de 100 minutos, com uma inclinação de 98 °. Sua potência de transmissão era muito elevada, com cerca de 4 watts. Ele não possuía sensores científicos,  ele só media os valores dos sistemas de bordo (WOD).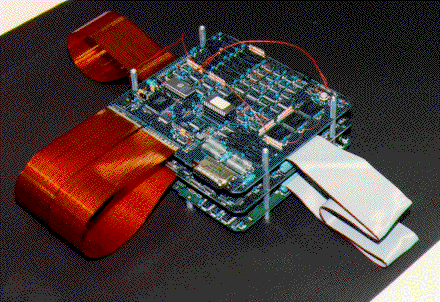 Ele tinha uma característica única, uma saída de transmissão de voz digitalizada, bem como gravações de voz digitalizadas da terra, que podem ser carregada no computador de bordo. Pela primeira vez foi utilizada a técnica dos componentes montados na superfície (SMD). As frequências de Downlink eram de 145.825 MHz para telemetria a 1K2 AX.25 em FM, 145.825 MHz voz digitalizada em FM e Banda S 2401.220 bps MHz BPSK.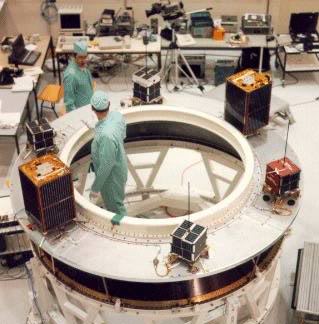 Ficha Técnica do Satélite DOVE
Name: DOVE-OSCAR 17 aka DOVE
NASA Catalog Number: 20440
Launched: January 22, 1990
Launch vehicle: Ariane 4
Launch location: Kourou, French Guiana
Weight: 12.92 kg.
Orbit: Sun-Synchronous near-Polar LEO (Low Earth Orbit)
Inclination: 98 degrees
Size: 226 x 226 x 223 mm
Period: 100.8 Minutes
Features:
DOVE – Digital Orbiting Voice Encoder
Sponsored by AMSAT-Brazil
Whole Orbit Data (WOD) Collection
Downlink:
145.825 MHz FM
2401.221 MHz (Note: 2401 MHz downlink is faulty)
Status: Non-operational
DOVE stopped transmitting in March 1998.  The satellite has not responded to ground station control.
The latest information is available from: AMSAT News Service (ANS)
Segundo a AMSAT o satélite DOVE parou de funcionar em março de 1998, se ele estivesse em operação,  estaria nesse momento aqui !
Telemetria do DOVE DO-17
Aqui está um exemplo interessante de telemetria recebidas, Exemplo real. Você pode ver as mensagens da Equipe de Comando com o anúncio de que o transmissor S-Band foi reativado. via
SWITCH-0>SWITCH-0  DM
SWITCH-0>SWITCH-0  DM
DOVE-1>BCRXMT-0  UI: PID=F0 
vmax=758275 battop=766771 temp=397363
DOVE-1>LSTAT-0  UI: PID=F0 
I P:0x3103 o:0 l:3153 f:6780, d:0 st:0
SWITCH-0>SWITCH-0  DM
SWITCH-0>SWITCH-0  DM
DOVE-1>TIME-1  UI: PID=F0 
PHT: uptime is 520/13:20:45.  Time is Mon Nov 13 03:27:14 1995

SWITCH-0>SWITCH-0  DM
DOVE-1>BRAMST-0  UI: PID=F0 
10/29/95  
Software load complete. S-band is on and should stay on.
Accurate measurements of it's frequency (2401.220 MHz) appreciated
to wd0e@amsat.org
DOVE Command Team (WD0E)
DOVE-1>LSTAT-0  UI: PID=F0 
I P:0x3103 o:0 l:3153 f:6780, d:0 st:0
SWITCH-0>SWITCH-0  DM
DOVE-1>TIME-1  UI: PID=F0 
PHT: uptime is 520/13:21:15.  Time is Mon Nov 13 03:27:44 1995

SWITCH-0>SWITCH-0  DM
SWITCH-0>SWITCH-0  DM
DOVE-1>TIME-1  UI: PID=F0 
PHT: uptime is 520/13:21:45.  Time is Mon Nov 13 03:28:14 1995

DOVE-1>STATUS-0  UI: PID=F0 
 80 00 00 1E F9 18 99 02 00 10 00 00 09 0E 3C 05 0F 31 01 0B 00
DOVE-1>BRAMST-0  UI: PID=F0 
10/29/95  
Software load complete. S-band is on and should stay on.
Accurate measurements of it's frequency (2401.220 MHz) appreciated
to wd0e@amsat.org
DOVE Command Team (WD0E)
DOVE-1>BCRXMT-0  UI: PID=F0 
vmax=759160 battop=766771 temp=357713
DOVE-1>LSTAT-0  UI: PID=F0 
I P:0x3103 o:0 l:3153 f:6780, d:0 st:0
SWITCH-0>SWITCH-0  DM
DOVE-1>TIME-1  UI: PID=F0 
PHT: uptime is 520/13:22:15.  Time is Mon Nov 13 03:28:44 1995

SWITCH-0>SWITCH-0  DM
DOVE-1>TLM-0  UI: PID=F0 
00:57 01:57 02:84 03:32 04:57 05:57 06:6C 07:56 08:6C 09:74 0A:A0
0B:E4 0C:E8 0D:D6 0E:00 0F:24 10:CC 11:9B 12:00 13:02 14:A6 15:90
16:96 17:94 18:95 19:95 1A:9E 1B:93 1C:9A 1D:97 1E:22 1F:5C 20:95
DOVE-1>TLM-0  UI: PID=F0 
21:8A 22:18 23:18 24:13 25:3C 26:00 27:00 28:00 29:00 2A:00 2B:00
2C:00 2D:2F 2E:00 2F:9E 30:CC 31:9E 32:00 33:00 34:C2 35:A6 36:AB
37:A9 38:B0
SWITCH-0>SWITCH-0  DM
DOVE-1>TIME-1  UI: PID=F0 
PHT: uptime is 520/13:22:45.  Time is Mon Nov 13 03:29:14 1995

SWITCH-0>SWITCH-0  DM
DOVE-1>STATUS-0  UI: PID=F0 
 80 00 00 1E F9 18 99 02 00 10 00 00 09 0E 3C 05 0F 31 01 0B 00
DOVE-1>BRAMST-0  UI: PID=F0 
10/29/95  
Software load complete. S-band is on and should stay on.
Accurate measurements of it's frequency (2401.220 MHz) appreciated
to wd0e@amsat.org
DOVE Command Team (WD0E)
DOVE-1>BCRXMT-0  UI: PID=F0 
vmax=758275 battop=766771 temp=397363
DOVE-1>LSTAT-0  UI: PID=F0 
I P:0x3103 o:0 l:3153 f:6780, d:0 st:0
SWITCH-0>SWITCH-0  DM
DOVE-1>TLM-0  UI: PID=F0 
00:57 01:58 02:84 03:32 04:56 05:56 06:6C 07:56 08:6B 09:72 0A:A1
0B:E4 0C:E8 0D:D6 0E:00 0F:26 10:CC 11:9A 12:00 13:02 14:A7 15:92
16:99 17:94 18:96 19:95 1A:9D 1B:93 1C:9A 1D:96 1E:22 1F:5C 20:93
DOVE-1>TIME-1  UI: PID=F0 
PHT: uptime is 520/13:24:15.  Time is Mon Nov 13 03:30:44 1995

SWITCH-0>SWITCH-0  DM
DOVE-1>LSTAT-0  UI: PID=F0 
I P:0x3103 o:0 l:3153 f:6780, d:0 st:0
SWITCH-0>SWITCH-0  DM
DOVE-1>TIME-1  UI: PID=F0 
PHT: uptime is 520/13:25:15.  Time is Mon Nov 13 03:31:44 1995

SWITCH-0>SWITCH-0  DM
DOVE-1>STATUS-0  UI: PID=F0 
 80 00 00 1E F9 18 99 02 00 10 00 00 09 0E 3C 05 0F 31 01 0B 00
DOVE-1>LSTAT-0  UI: PID=F0 
I P:0x3103 o:0 l:3153 f:6780, d:0 st:0
SWITCH-0>SWITCH-0  DM
DOVE-1>TIME-1  UI: PID=F0 
PHT: uptime is 520/13:25:45.  Time is Mon Nov 13 03:32:14 1995

SWITCH-0>SWITCH-0  DM
DOVE-1>STATUS-0  UI: PID=F0 
 80 00 00 1E F9 18 99 02 00 10 00 00 09 0E 3C 05 0F 31 01 0B 00
SWITCH-0>SWITCH-0  DM
DOVE-1>TLM-0  UI: PID=F0 
00:5B 01:58 02:86 03:34 04:56 05:57 06:70 07:54 08:6B 09:70 0A:9F
0B:E5 0C:E8 0D:D6 0E:00 0F:25 10:CA 11:9B 12:00 13:01 14:AC 15:96
16:9B 17:96 18:98 19:97 1A:9E 1B:93 1C:9D 1D:9A 1E:22 1F:5B 20:97
DOVE-1>TLM-0  UI: PID=F0 
21:86 22:1A 23:19 24:12 25:3B 26:00 27:00 28:00 29:00 2A:00 2B:00
2C:01 2D:30 2E:00 2F:9F 30:CD 31:9E 32:00 33:00 34:C5 35:A8 36:B0
37:AC 38:B6
DOVE-1>STATUS-0  UI: PID=F0 
 80 00 00 1E F9 18 99 02 00 10 00 00 09 0E 3C 05 0F 31 01 0B 00
DOVE-1>LSTAT-0  UI: PID=F0 
I P:0x3103 o:0 l:3153 f:6780, d:0 st:0
SWITCH-0>SWITCH-0  DM
DOVE-1>STATUS-0  UI: PID=F0 
 80 00 00 1E F9 18 99 02 00 10 00 00 09 0E 3C 05 0F 31 01 0B 00
DOVE-1>BRAMST-0  UI: PID=F0 
10/29/95  
Software load complete. S-band is on and should stay on.
Accurate measurements of it's frequency (2401.220 MHz) appreciated
to wd0e@amsat.org
DOVE Command Team (WD0E)
DOVE-1>BCRXMT-0  UI: PID=F0 
vmax=760045 battop=766771 temp=318063
DOVE-1>LSTAT-0  UI: PID=F0 
I P:0x3103 o:0 l:3153 f:6780, d:0 st:0
DOVE-1>TLM-0  UI: PID=F0 
00:5C 01:57 02:86 03:34 04:57 05:58 06:6C 07:54 08:6C 09:71 0A:A0
0B:E6 0C:E7 0D:D6 0E:00 0F:25 10:CA 11:9A 12:00 13:02 14:B0 15:96
16:9B 17:96 18:98 19:98 1A:A0 1B:93 1C:9D 1D:9A 1E:22 1F:5C 20:94
DOVE-1>TLM-0  UI: PID=F0 
21:7F 22:19 23:18 24:14 25:39 26:00 27:00 28:00 29:00 2A:00 2B:01
2C:00 2D:30 2E:00 2F:9E 30:CC 31:9F 32:00 33:00 34:C6 35:A7 36:AD
37:AC 38:B7
DOVE-1>STATUS-0  UI: PID=F0 
 80 00 00 1E F9 18 99 02 00 10 00 00 09 0E 3C 05 0F 31 01 0B 00
DOVE-1>LSTAT-0  UI: PID=F0 
I P:0x3103 o:0 l:3153 f:6780, d:0 st:0
SWITCH-0>SWITCH-0  DM
DOVE-1>TLM-0  UI: PID=F0 
21:83 22:1A 23:1A 24:14 25:38 26:00 27:01 28:00 29:00 2A:00 2B:00
2C:00 2D:30 2E:00 2F:9F 30:D0 31:9F 32:00 33:00 34:C7 35:A8 36:B0
37:AC 38:B8
DOVE-1>STATUS-0  UI: PID=F0 
 80 00 00 1E F9 18 99 02 00 10 00 00 09 0E 3C 05 0F 31 01 0B 00
DOVE-1>BRAMST-0  UI: PID=F0 
10/29/95  
Software load complete. S-band is on and should stay on.
Accurate measurements of it's frequency (2401.220 MHz) appreciated
to wd0e@amsat.org
DOVE Command Team (WD0E)
DOVE-1>BCRXMT-0  UI: PID=F0 
vmax=760045 battop=766771 temp=318063
DOVE-1>LSTAT-0  UI: PID=F0 
I P:0x3103 o:0 l:3153 f:6780, d:0 st:0
SWITCH-0>SWITCH-0  DM
DOVE-1>TLM-0  UI: PID=F0 
00:58 01:57 02:86 03:34 04:58 05:57 06:6C 07:54 08:6C 09:70 0A:A0
0B:E4 0C:E7 0D:D6 0E:00 0F:24 10:CA 11:9A 12:01 13:01 14:B0 15:97
16:9D 17:98 18:99 19:99 1A:A1 1B:96 1C:9E 1D:9B 1E:22 1F:5C 20:9A
DOVE-1>TLM-0  UI: PID=F0 
21:84 22:19 23:1A 24:14 25:39 26:00 27:00 28:00 29:00 2A:00 2B:00
2C:00 2D:30 2E:01 2F:9E 30:CC 31:9F 32:00 33:00 34:C7 35:A8 36:B0
37:AC 38:B8
DOVE-1>STATUS-0  UI: PID=F0 
 80 00 00 1E F9 18 99 02 00 10 00 00 09 0E 3C 05 0F 31 01 0B 00
DOVE-1>LSTAT-0  UI: PID=F0 
I P:0x3103 o:0 l:3153 f:6780, d:0 st:0
SWITCH-0>SWITCH-0  DM
DOVE-1>TLM-0  UI: PID=F0 
21:7E 22:19 23:1A 24:13 25:3A 26:00 27:00 28:00 29:00 2A:00 2B:00
2C:00 2D:2F 2E:00 2F:9E 30:D0 31:9F 32:00 33:00 34:C7 35:A8 36:B0
37:AC 38:B9
DOVE-1>STATUS-0  UI: PID=F0 
 80 00 00 1E F9 18 99 02 00 10 00 00 09 0E 3C 05 0F 31 01 0B 00
DOVE-1>BRAMST-0  UI: PID=F0 
10/29/95  
Software load complete. S-band is on and should stay on.
Accurate measurements of it's frequency (2401.220 MHz) appreciated
to wd0e@amsat.org
DOVE Command Team (WD0E)
DOVE-1>BCRXMT-0  UI: PID=F0 
vmax=759160 battop=766771 temp=357713
SWITCH-0>SWITCH-0  DM
SWITCH-0>SWITCH-0  DM
SWITCH-0>SWITCH-0  DM

-----------------------------------------------------------------------------
   -RX Audio-                -RF OUT Watts-           -Amps-                   
 00 W V(p-p) E/F          32 TX FM1                0B +5V RX                  
 01 N V(p-p) E/F          33 TX FM2                0F LO Monitor I            
 04 W V(p-p)  A           3A TX SBAND              11 GASFET BIAS I           
 05 N V(p-p)  A                                    23 BCR Load                
 06 DISC kHz  A             -Volts-                24 +8.5 V Bus              
 07 SMeter    A           02 Mixer Bias            25 +5V Bus                 
 08 DISC kHz E/F          03 Osc.  Bias            2C Ext Power               
 09 SMeter   E/F          0A +5V Bus               2D BCR Input               
  -Temperatures Degr C-   0C +2.5V VREF            2E BCR Output              
 14 RX                    0D +8.5V BUS               -Battery Volts           
 15 +X Array RX           10 +10V Bus              16  1         1A  5        
 2F Bat 1                 12 Ground REF            17  2         1B  6        
 30 Bat 2                 13 +Z Array              18  3         1C  7        
 31 Baseplt               1E Array                 19  4         1D  8        
 34 PSK TX HPA            1F +5V Bus                                          
 35 +Y Array              20 +8.5V Bus             26 -X         27 +X        
 36 RC PSK HPA            21 +10V Bus              28 -Y         29 +Y        
 37 RC PSK BP               -Counts-               2A -Z         2B +Z        
 38 +Z Array              0E IR Detector                                      
 39 S Band HPA            22 BCR SetPoint                                     

    F1-HELP F3-SCAN F5-PRINT F7-GRAPH F9-DELETE PgUp-Prev PgDn-Next ESC-QUIT
-----------------------------------------------------------------------------
Exemplo do Beacon de 1998/01/23 21:49 UTC:
fm SWITCH to SWITCH ctl DM [DAMA] 
fm DOVE-1 to BRAMST ctl UI pid F0 [DAMA] 
1/6/98  
QSLs are available.  
Send self addressed stamped envelope, or envelope and IRC to: 
Dianne White, N0IZO 
45777 Rampart Rd. 
Parker, CO 80138-4316 
U.S.A 
2M power = 1W  
2401.220 Mhz power = .8W 
(WD0E)
Telemetria pura via
 Kanal Parameter        C             B          A          Einheit 
        -------------------------------------------------------------------
         0    Rx E/F Audio(W)+0.000       +0.0246      0.000       V(p-p)
         1    Rx E/F Audio(N)+0.000       +0.0246      0.000       V(p-p)
         2    Mixer Bias V:  +0.000       +0.0102      0.000       Volts
         3    Osc. Bias V:   +0.000       +0.0102      0.000       Volts 
         4    Rx A Audio (W):+0.000       +0.0246      0.000       V(p-p)
         5    Rx A Audio (N):+0.000       +0.0246      0.000       V(p-p)
         6    Rx A DISC:     +10.427      -0.09274     0.000       kHz
         7    Rx A S meter:  +0.000       +1.000       0.000       Counts
         8    Rx E/F DISC:   +9.6234      -0.09911     0.000       kHz
         9    Rx E/F S meter:+0.000       +1.000       0.000       Counts
         A    +5 Volt Bus:   +0.000       +0.0305      0.000       Volts
         B    +5V Rx Current:+0.000       +0.000100    0.000       Amps
         C    +2.5V  VREF:   +0.000       +0.0108      0.000       Volts
         D    8.5V BUS:      +0.000       +0.0391      0.000       Volts
         E    IR Detector:   +0.000       +1.000       0.000       Counts
         F    LO Monitor I:  +0.000       +0.000037    0.000       Amps
        10    +10V Bus:      +0.000       +0.05075     0.000       Volts
        11    GASFET Bias I: +0.000       +0.000026    0.000       Amps
        12    Ground REF:    +0.000       +0.0100      0.000       Volts
        13    +Z Array V:    +0.000       +0.1023      0.000       Volts
        14    Rx Temp:       +101.05      -0.6051      0.000       Deg. C
        15    +X (RX) temp:  +101.05      -0.6051      0.000       Deg. C
        16    Bat 1 V:       +1.7932      -0.0034084   0.000       Volts
        17    Bat 2 V:       +1.7978      -0.0035316   0.000       Volts
        18    Bat 3 V:       +1.8046      -0.0035723   0.000       Volts
        19    Bat 4 V:       +1.7782      -0.0034590   0.000       Volts
        1A    Bat 5 V:       +1.8410      -0.0038355   0.000       Volts
        1B    Bat 6 V:       +1.8381      -0.0038450   0.000       Volts
        1C    Bat 7 V:       +1.8568      -0.0037757   0.000       Volts
        1D    Bat 8 V:       +1.7868      -0.0034068   0.000       Volts
        1E    Array V:       +7.205       +0.07200     0.000       Volts
        1F    +5V Bus:       +1.932       +0.0312      0.000       Volts
        20    +8.5V Bus:     +5.265       +0.0173      0.000       Volts
        21    +10V Bus:      +7.469       +0.021765    0.000       Volts
        22    BCR Set Point: -8.762       +1.1590      0.000       Counts
        23    BCR Load Cur:  -0.0871      +0.00698     0.000       Amps
        24    +8.5V Bus Cur: -0.00920     +0.001899    0.000       Amps
        25    +5V Bus Cur:   +0.00502     +0.00431     0.000       Amps
        26    -X Array Cur:  -0.01075     +0.00215     0.000       Amps
        27    +X Array Cur:  -0.01349     +0.00270     0.000       Amps
        28    -Y Array Cur:  -0.01196     +0.00239     0.000       Amps
        29    +Y Array Cur:  -0.01141     +0.00228     0.000       Amps
        2A    -Z Array Cur:  -0.01653     +0.00245     0.000       Amps
        2B    +Z Array Cur:  -0.01137     +0.00228     0.000       Amps
        2C    Ext Power Cur: -0.02000     +0.00250     0.000       Amps
        2D    BCR Input Cur: +0.06122     +0.00317     0.000       Amps
        2E    BCR Output Cur:-0.01724     +0.00345     0.000       Amps
        2F    Bat 1 Temp:    +101.05      -0.6051      0.000       Deg. C
        30    Bat 2 Temp:    +101.05      -0.6051      0.000       Deg. C
        31    Baseplt Temp:  +101.05      -0.6051      0.000       Deg. C
        32    FM TX#1 RF OUT:+0.0256      -0.000884    +0.0000836  Watts
        33    FM TX#2 RF OUT:-0.0027      +0.001257    +0.0000730  Watts
        34    PSK TX HPA Temp+101.05      -0.6051      0.000       Deg. C
        35    +Y Array Temp: +101.05      -0.6051      0.000       Deg. C
        36    RC PSK HPA Temp+101.05      -0.6051      0.000       Deg. C
        37    RC PSK BP Temp:+101.05      -0.6051      0.000       Deg. C
        38    +Z Array Temp: +101.05      -0.6051      0.000       Deg. C 
        39    S band TX Out: -0.0451      +0.00403     0.000       Watts
        3A    S band HPA Temp+101.05      -0.6051      0.000       Deg. C