The feedback or realimentador,,pt,It means a reaction to a stimulus,,pt,I'm gonna explain,,pt,but explanation is through troubled,,pt,bio-feedback is to be fed back through a user electronic,,pt,through sound or visual warnings,,pt,you can control your state of meditation,,pt,causing the user reaches a pre established state at the time you want,,pt (Feed-back), significa uma reação a um estimulo, vou explicar, o conceito é simples, mas explicação é meio conturbada, a bio-realimentação consiste em se realimentar por meio eletrônico um usuário, através de avisos sonoros ou visuais, é possível controlar o seu estado de meditação, fazendo com que o usuário atinja um estado pré estabelecido no momento que desejar.
Bio-feedback circuit,,pt,With this feedback circuit from the variation consciously skin resistance is possible,,pt,despite the help equipment,,pt,still training for it will be necessary,,pt,For the use of bio-realimentador,,pt,the user must remain at rest,,pt,preferably lying,,pt,since physical activity and changes in emotional state influence the skin resistance,,pt,independent of our will that is unconsciously,,pt,Bio-realimentador electrodes should be set on the fingers and ring indicator,,pt,by tape or adhesive tape,,pt,should be the hand in a comfortable position and stop,,pt,How it works or bio-realimentador,,es
Com este circuito é possível a realimentação a partir da variação conscientemente da resistência da pele, apesar do equipamento ajudar, mesmo assim será necessário um treinamento para isso.
Para a utilização do bio-realimentador, o usuário deve permanecer em repouso, de preferência deitado, uma vez que a atividade física e as variações do estado emocional influenciam na resistência da pele, independente de nossa vontade ou seja inconscientemente.
Os eletrodos do bio-realimentador deverão ser fixados nos dedos anular e indicador, por meio de fita ou esparadrapo, devendo a mão ficar em uma posição confortável e parada.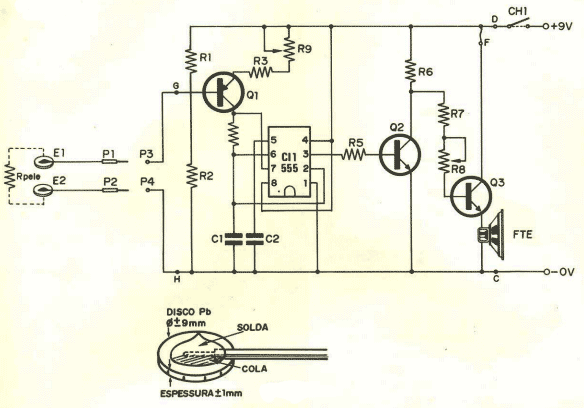 Como funciona o bio-realimentador
The bio-realimentador whose main component is an integrated circuit,,pt,configured as an astable multivibrator,,pt,The frequency of oscillation,,pt,It depends directly on the values ​​C1 and Q1 collector current,,pt,which is connected as a current generator,,pt,The resistors R1 and R2 connected to its base form a resistive divider that,,pt,together with R3 and R9,,pt,determine the collector current of transistor,,pt,When one connects the electrodes,,pt,the skin is placed in parallel with the resistance R2,,pt,which changes the frequency of the oscillator,,pt,If the skin resistance increase or decrease,,pt,we will have a drop or increase in C1 'oscillation frequency,,pt,R8 functions as volume control for Q3,,pt,which is the power amplifier,,pt 555, configurado como um multivibrador astável. A frequência de oscilação do 555 depende diretamente dos valores de C1 e da corrente de coletor de Q1, que esta ligado como gerador de corrente.
Os resistores R1 e R2 ligados à sua base formam um divisor resistivo que, juntamente com R3 e R9, determinam a corrente de coletor do transistor.
Quando a pessoa conecta os eletrodos, coloca-se a resistência da pele em paralelo com R2, o que altera a frequência do oscilador. Se a resistência da pele aumentar ou diminuir, teremos uma queda ou aumento da frequência de oscilação de Cl1 . R8 funciona como controle de volume para Q3, que é o amplificador de potência.
Component ratio of Bio-Realimentador,,pt,R1 -,,da,kOhm x,,en,R2 -,,da,R6 -,,is,kOhm x1/4 Watt,,en,R5 -,,ar,R7 -,,ar,R8 -,,da,kOhm,,en,linear potentiometer,,pt,R9 -,,ar,C1 -,,vi,polyester ηF,,pt,C2 -,,vi,CI1 - DO,,fr,Q1 – BC,,en,Q2 – BC,,en,Q3 - 2N3055 or equivalent,,pt,The supply of bio-realimentador is made by a battery,,pt,but a well filtered to prevent noise source can be used without problems,,pt,New Source Electronic Journal,,pt,autor de Gary Gronich,,en,Bio-Realimentador,,es
R1 – 47 kOhm x 1/4 Watt
R2 – 680 kOhm x 1/4 Watt
R3, R4, R6 – 1 kOhm x1/4 Watt
R5 – 22 kOhm x 1/4 Watt
R7 – 10 kOhm x 1/4 Watt
R8 – 50 kOhm – potenciômetro linear
R9 – 10 kOhm – trimpot
C1 – 100 ηF poliéster
C2 – 10 ηF poliéster
CI1 – NE 555 or equivalent
Q1 – BC 178 or equivalent
Q2 – BC 549 or equivalent
Q3 – 2N3055 ou equivalente
A alimentação do bio-realimentador é feita por uma bateria de 9 Volts, mas uma fonte bem filtrada para evitar ruídos pode ser usada sem problemas.
Fonte Revista Nova Eletrônica 1 DE 1977 – autor de Gary Gronich.