Para quem quer trabalhar apenas com circuitos simples, aqui está um para ninguém reclamar, ideal para iniciantes na eletrônica. Ele é um electronic circuit simples de uma chave acionada por toque, ou seja uma chave de toque.
A chave de toque é uma chave elétrica que abre ou fecha com apenas o toque dos dedos, ele não contem partes mecânicas para o acionamento, apenas eletrônica, its point of touch are two small plates that serve as touch sensors and the finger while the finger plates form a resistance between the plates, essa resistência é que aciona o circuito.
Touch key
O circuito eletrônico da chave de toque apresentado aqui é do site belza.cz, o circuito é relativamente simples, ele é capaz de comutar o acendimento de uma lâmpada facilmente.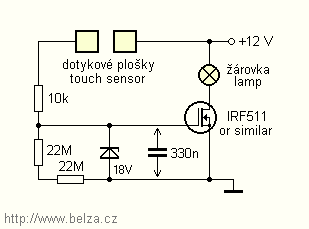 Apesar de estranho, the zener diode do circuito protege a porta do transistor de possíveis sobrecarga, este circuito de toque só funciona enquanto o usuário estiver com os dedos no sensor, mas pode ser acrescentado um capacitor para prolongar o tempo que vai permanecer ligado mesmo depois de retirado o dedo do sensor.
330nF capacitor with the lamp stays lit for 10 a 20 segundos dependendo da potencia da lâmpada. Para correntes de até 1 Ampere pode ser utilizado um transistor Mosfet IRFD110, já para correntes de até 9 Amperes um transistor Mosfet IRF520 vai funcionar muito bem.
For larger currents can be used transistors or Mosfets BUZ11 lRF540, como também funciona plenamente utilizando um relé.