Ordinary vehicles have only one battery,,pt,this battery provides enough power to start the engine and cause the electrical system of the vehicle works perfectly for a short time,,pt,without needing to be charged,,pt,This type of battery is designed solely to provide a high current in a few seconds,,pt,this is due to,,pt,notifications,,en,Notifications,,en,Google Trends,,en,hello Eletronica,,pt, chamada de car battery,,pt,this is due to the starting motor drive,,pt,This type of battery is not used for frequent deep discharge cycles,,pt,since the alternator after the vehicle is turned on supplies power to the electrical system of the vehicle and charging the battery again,,pt,in some case a vehicle can have two batteries,,pt,campervans,,en,I'm just in a project of these,,pt,Buga an Sadness,,hr,which is building a motorhome,,pt,it is called,,pt,stationary battery,,pt,since it is able to provide a current for a long period of time,,pt,To take advantage and charge the battery using the stationary alternator just connect a battery in another parallel,,pt,because in case of problem the two batteries will discharge,,pt, esta bateria fornece energia suficiente para dar partida no motor e fazer com que o sistema elétrico do veiculo funcione perfeitamente por um breve espaço de tempo, sem a necessidade de ser carregada.
Este tipo de bateria é projetada exclusivamente para fornecer uma alta corrente em poucos segundos, isso é devido ao acionamento do motor de partida. Este tipo de bateria não é usada para ciclos de descarga profunda frequentes, já que o alternador depois que o veiculo é ligado fornece energia para o sistema elétrico do veiculo e carregando a bateria novamente.
However, em alguns caso um veículo pode possuir duas baterias, uma para seu sistema de partida e outro para um sistema paralelo, este é o caso dos motor homes, campervans, trailers, shipping, etc. Estou justamente em um projeto destes, the Buga e Tuga, que é a construção de um motorhome.
Esta outra bateria geralmente é diferente da veicular, ela é chamada de bateria estacionária, e tem um funcionamento diferente da veicular, já que é capaz de fornecer uma corrente por um longo período de tempo.
Para aproveitar e carregar a bateria estacionária usando o alternador basta ligar uma bateria na outra em paralelo, mas não é aconselhável a ligação direta, pois em caso de problema as duas baterias irão se descarregar. Not to mention the issue of equalization charges,,pt,and even the battery commitment during starting of the vehicle,,pt,but at the same time unite two batteries,,pt,A single output,,pt,It is to use a diode,,pt,we can use a function of diode which allows current to flow in only one direction,,pt,the electric vehicle battery system for stationary,,pt,and I never felt otherwise,,es,Or more complex systems as we shall see below,,pt,uses two diodes,,pt,These diodes allow the vehicle alternator charge both batteries at the same time,,pt,without direct contact with each other,,pt,Battery Isolator circuit connected to the main battery with the battery stationary,,pt,In the version below using two relays you can set the direction flowing tension,,pt, e mesmo o comprometimento da bateria durante a partida do veiculo.
Uma solução é um isolador de bateria, ou seja um circuito capaz de isolar, mas ao mesmo tempo unir as duas baterias.
Circuito Isolador de Bateria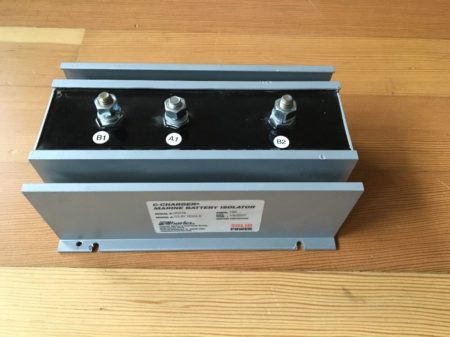 Uma saída simples, é usar um diodo, podemos aproveitar uma função do diodo que permite que a corrente flua apenas em uma direção, do sistema elétrico do veiculo para a bateria estacionaria, e nunca no sentido contrario.
Ou sistemas mais complexos como veremos abaixo.
Circuito Isolador de Bateria ligado ao alternador
O primeiro circuito isolador de baterias é bem simples, utiliza dois diodos. Como mostrado abaixo, estes diodos permitem que o alternador do veiculo carregue as duas baterias ao mesmo tempo, sem o contato direto uma com a outra.

Circuito Isolador de Bateria ligado a bateria principal com a bateria estacionaria
Já na versão abaixo usando dois relés é possível definir o sentido que flui a tensão, When a voltage is applied S1,,pt,RL1 is triggered and passes voltage battery,,pt,for a battery,,es,When a voltage is applied to S2,,pt,RL2 is triggered and passes voltage battery,,pt,when S1 and S2 are at voltage batteries are short and when the batteries S1 and S2 are turned off are completely isolated,,pt,Problems with a battery isolator,,pt,There are some problems associated with the use of a battery isolator that we can not ignore,,pt,and that should be taken into account,,pt,There is a voltage drop when current flows through the battery isolator,,pt,mainly based on this insulating diodes,,pt,down on average,,pt,stationary or vehicular,,pt, RL1 é acionado e deixa passar tensão da Bateria 1 para a bateria 2, quando é aplicada uma tensão em S2, RL2 é acionado e deixa passar tensão da Bateria 2 para a bateria 1, quando S2 e S1 estão com tensão as baterias estão em curto e quando S2 e S1 estão desligados as baterias estão totalmente isoladas.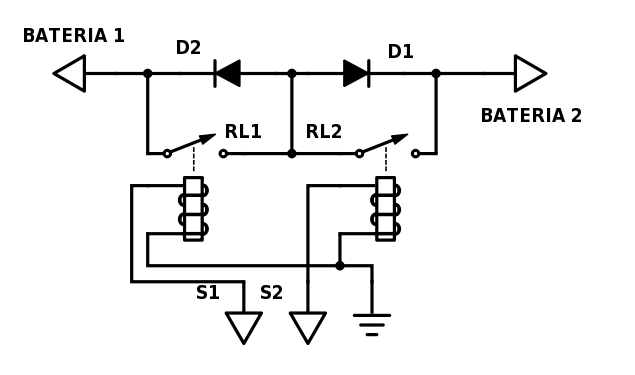 Problemas com um isolador de bateria
Há alguns problemas associados ao uso de um isolador de bateria que não podemos deixar de lado, e que deve ser levado em conta.
Existe uma queda de tensão quando a corrente elétrica passa através do isolador da bateria, principalmente neste isolador baseado em diodos. Embora isso possa parecer insignificante, uma queda de em média 0.6 volts é importante quando se trata de carregamento de baterias de chumbo-ácido ( estacionaria ou veicular).
The generator produces a voltage that is ideal for battery charging,,pt,the drop caused by the diode can change the tension and this condition can lead to a battery and subcarregada,,pt,cause permanent damage to long-term battery,,pt,This drawback can be easily bypassed using a second charger sporadically,,pt,such as solar or normal,,pt,Since the vehicle alternator is sized to carry only one battery,,pt,the addition of another battery will considerably increase the charging time of the battery,,pt,then this insulator is ideal for use in medium and long-haul vehicles,,pt,The diodes are all the desired voltage and current for charging battery,,pt,relays are,,pt, a queda ocasionada pelo diodo pode alterar a tensão e esta condição pode levar a uma bateria subcarregada e, so, causar danos permanentes na bateria a longo prazo. Este ponto negativo pode ser facilmente contornado utilizando um segundo carregador esporadicamente, como o solar ou o normal.
Já que o alternador do veiculo é dimensionado para carregar apenas uma bateria, a adição de mais uma bateria vai aumentar consideravelmente o tempo de carga das baterias, então este isolador é ideal para o uso em veículos de médio e longo percurso.
Obs: Os diodos são todos com a tensão e corrente desejada para o carregamento da bateria, os relés são de 12 Volts and contacts must also have a current compatible with the charging current,pt