Cada vez mais as lâmpadas LEDs estão tomando conta da iluminação, para quem tem sistemas de lâmpadas fluorescentes tubulares é possível substituir por lâmpadas de Led tubular, das mesmas dimensões das originais, a única mudança é no circuito elétrico do soquete.
Na adaptação é retirado o reator e substituído pela ligação direta na rede elétrica. Como você pode verificar,existem muitos LEDs dentro de uma lâmpada tubular de LED, os modelos comerciais geralmente tem um circuito de drive de Leds.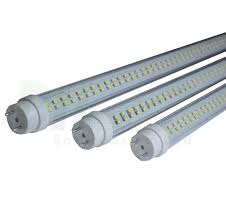 Circuit for LED lamp type Tubular,,pt,More and more LED lamps are taking care of lighting,,pt,for those with tubular fluorescent lamp systems can be replaced by tubular LED lamps,,pt,the same size of the original,,pt,the only change is in the electrical circuit of the socket,,pt,The adaptation is removed the reactor and replaced by direct connection to power source,,pt,As you can see,,pt,there are many LEDs inside a tubular LED lamp,,pt,business models usually have a circuit,,pt,drive Leds,,pt,The most economical way to connect LEDs using to power the household power grid is to connect many LEDs in series and,,pt
A maneira mais econômica de ligar LEDs utilizando como fonte de alimentação a rede elétrica domiciliar é conectar muitos LEDs em série e, then, use a current limiter circuit to set the maximum current of the LEDs,,pt,A tubular LED lamp may contain one or more of the sets of LEDs connected in series,,pt,O circuit seems quite simple,,es,and is,,pt,the disadvantage of this type of project is the loss of power by the current limiting resistor and the fact that the light output fluctuates in frequency,,pt,Another negative factor of this circuit is as the mains voltage variations,,pt,if the home network it is connected vary,,pt,the intensity of the LEDs will also vary,,pt,but these problems are normal for this type of simple LED lighting circuit,,pt.
Uma lâmpada tubular de LED pode conter um ou mais destes conjuntos de LEDs conectados em série. O circuito parece bastante simples, e é, a desvantagem deste tipo de projeto é a perda de potência pelo resistor de limitação de corrente e o fato de que a saída de luz oscila na frequência de 100 Hz.
Outro fator negativo deste circuito é quanto a variações de tensão da rede, caso a rede domiciliar em que ela esteja ligada variar, a intensidade dos leds também vão variar, mas esses são problemas normais para este tipo de circuito de iluminação de LED mais simples.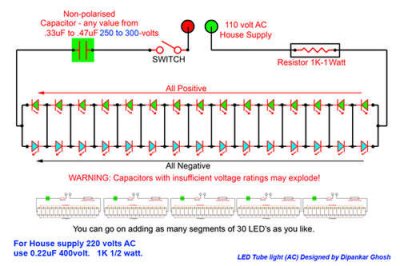 The layout of this our LED lighting circuit basically use two components,,pt,a capacitor and a resistor,,pt,the mission of these components is the current limit of,,pt,Using the capacitor with the resistor may be a little better,,pt,lower losses,,pt,than using only one resistor,,pt,The ideal solution for LED lighting using the mains AC power supply would be a suitable constant current for the amount of LEDs,,pt,but in our case,,pt,it's just to learn more about our electronic circuit is feasible,,pt,A driver could be leds,,pt,built with a rectifier,,pt,filtering capacitor followed by a constant current source of low loss,,pt, um capacitor e um resistor , a missão destes componentes é a limitação de corrente dos 30 LEDs in series.
Usando o capacitor juntamente com o resistor talvez seja um pouco melhor (perdas mais baixas) do que usar apenas um resistor.
A solução ideal para a iluminação de LEDs usando a rede elétrica de corrente alternada seria uma fonte de alimentação de corrente constante adequada para a quantidade de LEds, mas no nosso caso, que é apenas para aprendermos mais sobre eletrônica o nosso circuito é viável.
Um driver de leds poderia ser, eg, construído com um retificador, capacitor de filtragem seguido por uma fonte de corrente constante de baixa perda (power supply mode switched to constant current mode,,pt,Switching type,,pt,but this would make our complex project,,pt,which is not our intention,,pt,Special attention should be taken with LED short circuit,,pt,then any LED off must be detected and changed to avoid damaging the circuit and other burn LEDs,,pt,before it causes more serious problems,,pt,The above circuit has no protection,,pt,short circuit or damaged LEDs can cause circuit overload problems,,pt,overheating of the resistor,,pt,increase current to other LEDs,,pt,The LEDs are high gloss white,,pt,the resistor is 1kohm by,,pt,the capacitor is,,pt,.47uF the x 400Volts for a supply voltage,,pt,Volts and the resistor is 1kohm by,,pt), tipo chaveada, mas isso tornaria nosso projeto complexo, o que não é nossa intenção.
Uma atenção especial deve ser tomada com led em curto-circuito, então qualquer led apagado deve ser detectado e trocado para não danificar o circuito e queimar outros leds, antes que causem problemas mais graves.
O circuito acima não possui qualquer proteção, therefore, eg, leds em curto-circuito ou danificados podem causar problemas de sobrecarga do circuito, sobreaquecimento do resistor, aumento de corrente para outros leds, etc.
Os leds são brancos de alto brilho, o resistor é de 1KOhm por 1 Watts, o capacitor é de .33 a .47uF x 400Volts para uma tensão de alimentação de 127 Volts e o resistor é de 1KOhm por 1/2 Watts and the capacitor is .22uF x 400Volts to a supply voltage,pt 220 Volts
[Source]