This is a voltage converter, cheap and quick construction, ele nada mais é que um conversor de CC/CC (direct current to direct current) , its use is taken to USB or any other device that requires a stabilized voltage 5 Volts e uma corrente máxima de 2 amperes.
Com este conversor de energia, you insert a voltage 6 Volts a 24 Volts e tem uma saída regulada de 5 Volts fear 2 Amperes. In other words, you can use as power a car battery or motorcycle, or own cigarette lighter of your vehicle, and will have an outlet to charge your cell phone, câmera, etc.
Conversor CC/CC para tomadas USB
The circuit is very simple, and you may already have seen in some project here on the site, the circuit uses only five components, an integrated circuit voltage regulator positive 7805, um transistor TIP42, a resistor of 5 Ohms e dois capacitores de disco ou poliéster, one of .33 and other .1 in other words 330 and 100 nF.
Os capacitores são filtros e acompanham o regulador de tensão 7805. Este conversor funciona perfeitamente, desde que se respeite um numero de aparelhos a ele conectado. Even the creator of the project says it is ideal for a small USB hub that does not have large connected devices.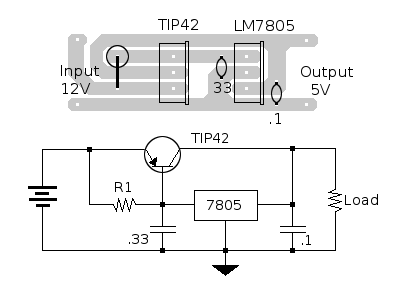 Acima o esquema eletrônico e a placa de circuito integrado do conversor, mas como o circuito é compacto, pode-se construir o circuito sem placa de circuito impresso, in other words, utilizando outras maneiras de construção.
Se você precisa de mais corrente, você precisará modificar o circuito, acrescentando um dissipador de calor maior e até um transistor mais potente. O regulador de tensão pode ser mantido já que ele apenas faz o trabalho de regular a tensão na base do transistor e apenas uma pequena corrente passa por ele, não necessitando nem a colocação de um dissipador no 7805.
Segundo o criador do projeto, pode ser usado qualquer circuito integrado regulador da linha 78xx, 5, 6, 8 or 9 Volts a partir de uma fonte de 12Volts.
O TIP42 foi deixado com espaçamento suficiente em torno dele para se ajustar o dissipador de calor de pequeno porte. O resistor R1 foi calculado para manter a corrente máxima através do TIP42, in other words, uns 2 Amperes.
[
Source
]