O Conversor Decimal para Binário que apresentamos aqui é bem simples, são usados apenas 11 diodes, 10 chaves e 4 lâmpadas ou Leds. O esquema deste circuito eletrônico foi publicado na Revista Nova Eletrônica numero 24 February 1979, e ele ilustra bem, de forma prática a conversão de números decimais para binário.
O numero binário, sistema binário, basic,,fr,or digital is a positional numbering system in which all quantities are represented based on two numbers,,pt,zero and one,,pt,Our Decimal to Binary Converter,,pt,but to start we will know a little of how a table between decimal and binary numbers,,pt,Below is a table Decimal,,pt,Binary,,pt,The converter circuit is originally designed to work with incandescent lamps,,pt,but below is a circuit for LEDs adaptation,,pt,Under the scheme for replacing bulbs with LEDs,,pt,Although the circuit is powered by,,pt,AC and the lamps are of,,pt,do not risk burning them,,pt,since there is a fall,,pt,Volts because the diodes,,pt,Decimal to Binary Converter,,pt 2 ou digital é um sistema de numeração posicional em que todas as quantidades se representam com base em dois números, in other words, zero e um (0 and 1). But let's get down to business, o nosso Conversor Decimal para Binário, mas para começar vamos conhecer um pouco de como é uma tabela entre números Decimais e Binários.
Abaixo uma tabela Decimal / Binário.

Decimal to Binary Converter,,pt,Decimal to Binary Converter presented here is simple,,pt,They are used only,,pt,keys and,,pt,lamps or LEDs,,pt,The layout of this electronic circuit was published in the New Electronic number,,pt,and he illustrates,,pt,practically the conversion of decimal numbers to binary,,pt,The binary number,,pt,binary system,,pt
O circuito do conversor é originalmente criado para trabalhar com lâmpadas incandescentes de 1,5 Volts, mas logo abaixo tem um circuito para adaptação de Leds.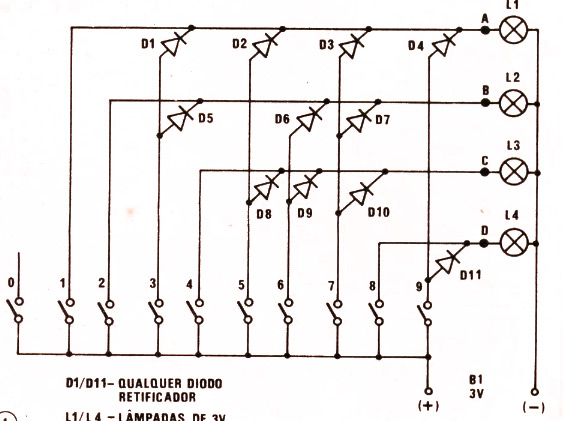 Abaixo o esquema para substituição das lâmpadas por Leds. Apesar do circuito ser alimentado por 3 Volts e as lâmpadas serem de 1,5 Volts, não corre o risco de queima-las, já que existe uma queda de 0,7 Volts por conta dos diodos.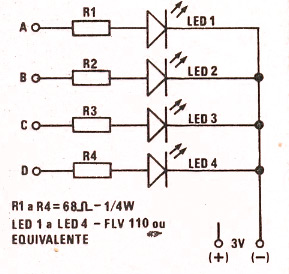 Abaixo a placa de printed circuit do Conversor Decimal para Binário, but so simple you can use this circuit other construction methods,,pt,Under the arrangement of the components in,,pt,every time one of the key,,pt,the result is triggered is obtained in Led,,pt,binary,,it,simulated,,pt.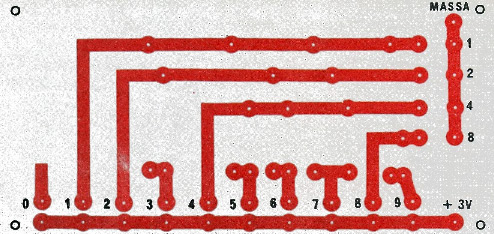 Abaixo a disposição dos componentes na printed circuit board.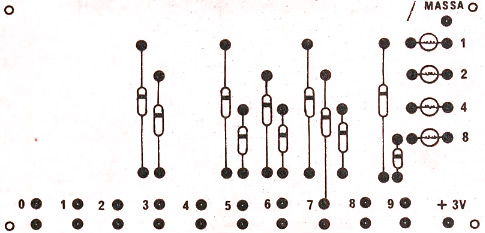 The operation is simple, toda vez que uma das chaves de 0 a 9 é acionada o resultado é obtido nos Leds de 1 a 4
Source: New Electronics Magazine 24 – Fevereiro de 1979
Save
Save
Save