Diodo Gunn ou dispositivo de elétrons transferido (TED) é um diodo, semicondutor, utilizado principalmente em aplicações de RF em frequências entre 1 and 100 GHz, ou seja na faixa de microondas, usado para a geração de sinais de RF, amplificador de elétrons, transmissores de baixa e média potencia, sistemas de sensoriamento de proximidade, etc.
Como os diodos Gunn são fáceis de serem usados, eles são uma maneira mais viável e de custo relativamente baixo para a geração de sinais de RF de micro-ondas em comparação com outros osciladores de RF.
Gunn diode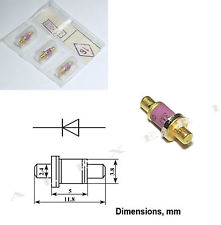 No início da década de 1960, IBM scientist, J.B. Gunn, descobre que em certos semicondutores como o Arsenieto de Gálio, electrons can exist in either a low-speed condition with high mass, as in its natural state, high speed with low mass, de forma que podem ser forçados a um estado de massa elevada pela ação de um campo elétrico constante fazendo com que a corrente flua como uma série de pulsos.
Conhecido como efeito gunn, é o princípio operacional de um diodo fabricado de uma camada epitaxial de Arsenieto de Gálio-N acrescida de um substrato do mesmo material. Mas se uma pequena tensão for aplicada aos terminais da camada-N, I no substrate, this produces an electric field responsible for the formation of pulses.
The frequency of the generated pulses depends not only on the travel time through the layer as N, also, da sua espessura.
If the diode is mounted on a tuned resonant cavity, a excitação por choque gera oscilações de radio freqüência com potencia de até 1 Watt em amplitudes de 10 a 30 GHz.