Um título um tanto longo, Tunable Oscillator Using a Low Frequency,,pt,this time an article withdrawn from,,pt,revista Electronics International,,en,In this paper we will see as a comparison voltage setting to a given operational amplifier can become a variable frequency oscillator with a fixed cycle,,pt,The variable oscillator circuit described here is able to oscillate between 700Hz and 2.7KHz with good precision,,pt,stability,,pt,variation slow and smooth frequency,,pt,be connected to the voltage across the capacitor C1 is zero and the output level is high,,pt,through R5 and R6,,pt,C1 charges reaching the upper limit V ,,pt Operational Amplifier, mas este é mais um circuito da Revista Nova eletrônica, desta vez de um artigo retirado da revista Electronics International, sob o nome de "comparador se transforma em um oscilador sintonizável."
Neste artigo vamos ver como uma configuração de comparador de tensão dada a um amplificador operacional pode se tornar um oscilador de frequência variável com um ciclo fixo de 50%.
Tunable Oscillator Low Frequency Using an Operational Amplifier,,pt,A somewhat long title,,pt,but this is another circuit of the New Electronic Magazine,,pt,this time an article taken from the International Electronics magazine,,pt,under the name of,,pt,comparator becomes a tunable oscillator.,,pt,In this article we see as a voltage comparator configuration given to an amplifier,,pt
O circuito de Oscilador variável descrito aqui é capaz de oscilar entre 700Hz e 2.7KHz com uma boa precisão, estabilidade, variação de frequência lenta e suave.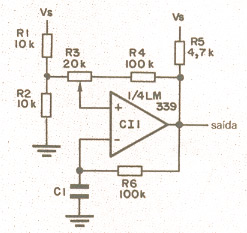 The operation is simple, ao ser ligado a tensão no capacitor C1 é nula e o nível de saída é alto, através de R5 e R6, C1 carrega atingindo o limiar superior V .
Upon reaching this point the output is replaced by a low level and C1 slowly begins its discharge through R 6 until it reaches its lower threshold V,,pt,When the output reaches the lower level the process is repeated,,pt,indefinitely,,es,The frequency adjustment is made by resistor R3 which can be a pot or even trimpot,,pt,Fonte Nova Eletronica,,pt. Quando a saída chega ao nível inferior se repete o processo, indefinidamente.
O ajuste da frequência é feita pelo resistor R3 que pode ser um potenciômetro ou mesmo trimpot.
Fonte Nova Eletronica – Fevereiro de 1984
Save