Na faixa do cidadão as frequências são dispostas em canais do 1 to 40, que compreendem as frequências em intervalos de 5 in 5 Khz, of 26.695 kHz a 27.405 kHz, isso pulando os canais de radio comando. Estes rádios são chamados de PX, são de baixo custo e dispões de amplo modos de recepção, AM, FM, SSB e até CW.
Pensando em juntar o útil ao agradável, podemos transformar o rádio PX de baixo custo em um super receptor para qualquer faixa de frequência que você deseje escutar, preserving the functions and receive modes (menos a transmissão em nosso caso).
Circuito transverter 40 or 80 Meters
Mas como isso é possível? Sim é possível pelo motivo que usa o rádio PX como uma FI (intermediate frequency) variável, in other words, FI changing frequency rather than a VFO (oscilador variável), no nosso caso usamos um oscilador fixo.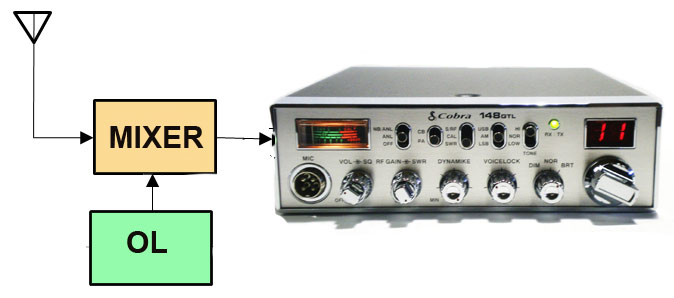 O transverter que vamos apresentar neste artigo é bem simples, basicamente como na figura acima, ele tem um MIXER (mixer) que mistura o sinal captado pela antena 7 Mhz com o sinal do OL (local oscillator) that is 20 Mhz resultando em 27 Mhz que é a frequência do rádio.
Para fazer o cálculo de forma que você avalie a frequência a partir do cristal é só fazer:
Frequência do Rádio – Cristal = Frequência a ser captada
In other words:
27 Mhz – 20Mhz = 7Mhz
Este circuito é do radioamador filipino YC3LVX, super simples, barato e rápido de ser construído, porém muito eficiente. O conversor tem apenas dois transistores, Any one RF mixer and one local oscillator 20 Mhz.
Este circuito não precisa de mudanças internas no rádio, because it is connected directly to your antenna input. The drive consists of RF amplifier, tuner, misturador e oscilador local.
Funcionamento do transverter 40 / 80 Meters
Na entrada de antena do conversor, T1 is a bandpass filter for frequency 7 Mhz, após filtrado o sinal de RF é enviado para o primeiro transistor que é um amplificador RF e um misturador, amplificando o sinal da FBP e misturando-o com o sinal de RF do oscilador.
The second transistor is the local oscillator which works with a crystal 20 Mhz .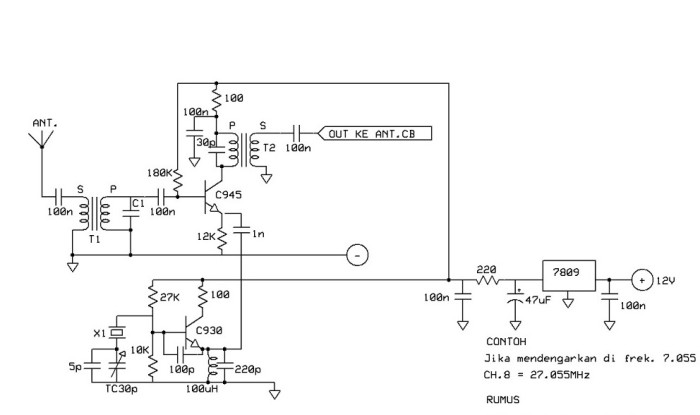 Transverter 40 Meters
T1 – 18/4 Enameled copper wire 0.2mm
T2 – 8/3 Enameled copper wire 0.4mm
X1 – 20 Mhz
C1 – 100pF
Transverter 80 Meters
T1 – 30/6 Enameled copper wire 0.2mm
T2 – 8/3 Enameled copper wire 0.4mm
X1 – 24 Mhz
C1 – 220pF
Segundo o seu criador, the drive system 40 metros funciona da seguinte maneira, if the signal received at 40m is 7,055 Mhz, wherein the local oscillator operates at a frequency 20 MHz.
In this mixing process the RF signal, a soma do receptor de sinal de RF + a frequência do oscilador local, tem como resultado a frequência de escuta. Então de modo que o cálculo é o seguinte:
7055 + 20000 = 27 055 MHz (channel 9)
Este circuito é muito sensível e seletivo, mas pode ser melhorado, below the printed circuit board of the converter 40/80 meters.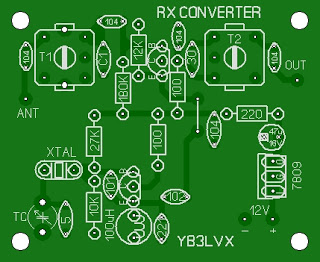 Under the PCI transverter, click to enlarge. Size 4.5cm X 5.5cm .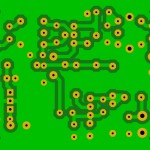 The circuit is not harmful to the radio, mas se você tentar transmitir com o transverter conectado no rádio, com certeza o conversor irá queimar e até danificar o rádio.
[
Source
]